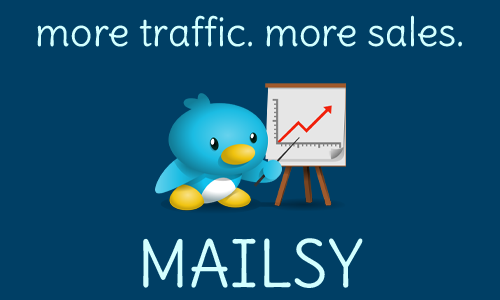 Like many Safelist Mailers Mailsy operates on the basis of allowing members to send out emails to its members, but the similarity kind of ends there...



Having joined Mailsy in 2018 I soon realised there was a driving force behind this system that was
getting my adverts/emails across to the right people
.
The platform itself is super easy to use and operate and more importantly the thousands of Mailsy members react to the messages being sent to them, either by subscription, buying, or joining systems/programs that are projected to them.
The format is quite simple if you are not familiar with safelist mailers. You simply create a message/email, enter it into the mailing box, click send and your done.
I've used many such systems past and present and for constent, consistent results Mailsy always hits the mark from my tracked links/URL's. After all it's the results that count, not the glamour or glorification of how good a system looks, or what it projects it can do.
That's the thing with any source of traffic system online. If you're not getting any results from it, then you're just shooting your efforts into the wind.
What I like
is the fact that the results are authentic (i.e. real people reacting) and beneficial, and after an initial week or so of using it I didn't hesitate in upgrading to gain the most possible from the system.
Very nice commissions scheme of upto 50%. Cheapest upgrade of $7 per month or get the maximum benefit by upgrading to a year membership for only $77 and get 30,000 credits per month to promote other money making programs.
As stated, the message box is easy to use and you can also edited your emails/messages in an html format as well if you desire.
The owner is easy to contact, very approachable and helps out straight away without any fuss.
My Final Verdict
would be that Mailsy is a system that works, when people use it, they gain results, and as that is basically the bottom line for what online marketers are looking for then
Mailsy is pretty much a must have addition to any marketers arsenal.
"I wouldn't dream of not using it. "
P. S.
Here's a thought

...
A
'New'
safelist mailer may operate on the same basis as Mailsy, but their member numbers are only achieved by promotion of their system, thus limiting the actual amount of members that are going to be reactive to what is projected towards them. Plus! It takes time to build a worthwhile list, and the same can be said to building a membership base within a newer system. Mailsy has been around for several years now and been through that process, and what you have there now are well established members.
Food for thought perhaps!
This Sweet Mailer is a Money-Maker and More!
Reviewed by
Money Digger
on
1:16 AM
Rating: